Raise your hand if you thought the Habs would come home from Boston with a 2-0 series lead.
HEY! YOU! Put your hand down. You're LYING!
Thursday's 2-0 win was heartwarming and spirit-lifting in the best of ways, but I have to admit that I got a little greedy in the moments prior to game two on Saturday when it became known that Bruins' all-star defenseman Zdeno Chara would miss the game with dehydration. With him out of the lineup, I reverted from being satisfied with a "worst case scenario" 1-1 split in the series to calling game two a virtual must-win because opportunities like that don't present themselves often. The Habs capitalized early and never looked back, fulfilling my greedy desires.
Needless to say, I think I speak for a lot of Habs fans in saying that being in this position feels a little surreal. Now with the series back in Montreal, where the Habs have dominated the Bruins this year, I can't shake the feeling that the hockey gods have something nasty lined up for us. How to best represent how I feel? This clip says it all. Playing the role of the hockey gods is Lucy. The Habs and Habs fans are represented by Charlie Brown: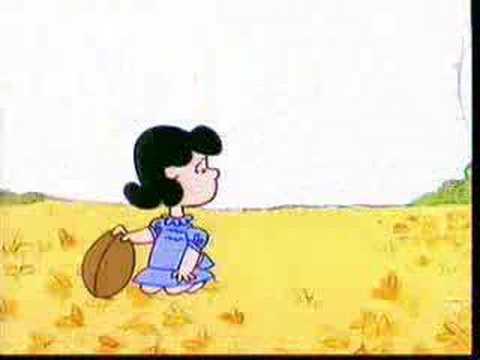 I'm probably wrong. The Habs have shown more poise, guts and determination than even last year's Cinderella team if you ask me. They've out hit, out skated, out worked, out coached, out smarted and out classed the Bruins in nearly every facet of the game. There's no reason to think they'll feel the nerves now after putting the 8-6 "Boston Beatdown" and 7-0 crushing way behind them. The Habs won't deviate from their game plan, which is to score early, then apply the king of all sleeper holds. Even Jacques Lemaire has to be envious of how the Habs are able to smother opposition for such long stretches.
So as I sit here nervously working my way through a cold, cloudy Monday, tell me that the hockey gods are enjoying this as much as we are.
So for all those I called a liar at the start? Maybe you're right and I'm wrong. After all, as George Costanza reminds us: